I am so excited about today's post because today you can enter a giveaway for one of my favorite products! Make sure you read to the end for your opportunity to enter!
About two (ish) months ago, I did a Q&A post. My friend Sarah from Vintage Chic Home asked me if I had ever tried Scentsy and if so, what was my favorite scent? My answer was no, I had never tried Scentsy, but I would like to because I had heard such fabulous things about the company and products.
A wonderful reader, Susan, emailed me and asked if she could send me a few products to review. I said yes, and a few days later a big box of goodies arrived at my door!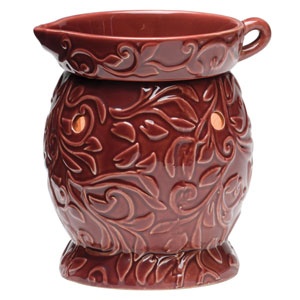 Susan sent me the Capri Full Size Scentsy Warmer along with the Groovy Rust Plug-In Scentsy Warmer (below).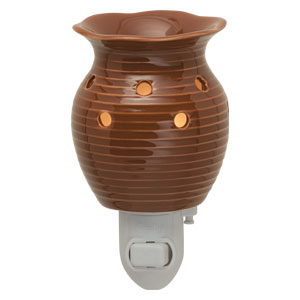 I also received the Pumpkin Marshmallow, Oats & Honey, and Vanilla Cream Scentsy Bars.
I immediately plugged in my warmer, and I fell in love! There is so much to love about these products. Let me count the ways…
The Scentsy bar is heated by a bulb, and not a flame. I love the idea of scented oil burners to fragrance my home, but I don't use them because open flames + toddlers don't mix. I can put the Scentsy warmer on my counter and not worry about little fingers getting burnt.

I had heard claims that the Scentsy warmers never get too hot to the touch, and of course (me being me) I decided to test out those claims. It's true! I wrapped both hands around the warmer after it had been sitting on for a few hours. It was warm, but not overly so. I did not burn my hands. I also was feeling brave, so I stuck my finger into the heated wax. The wax did not burn my finger. Promise. (The things I do for you guys…)

The warmers are just pretty! Choose from elegant designs, holiday themes, collegiate designs… the possibilities are endless, and they are sure to match your décor!
The scents are divine. So far I've only tried the Pumpkin Marshmallow and the Vanilla Cream scent, but I am in love. Seriously. When I have the Pumpkin Marshmallow scent in the warmer, Cooper will walk into the kitchen and just sniff. I've had company over and been complimented on how good my house smells. Now that's a great compliment! (You fellow pet owners hear me on that one.)

The bars last forever. I used three pieces from the Pumpkin Marshmallow bar, and I've had the warmer turned on an average of four hours a day. It looks like the first day I put them in the warmer!

Scentsy ships so fast – I placed an order on a Thursday and had my products by the following Tuesday.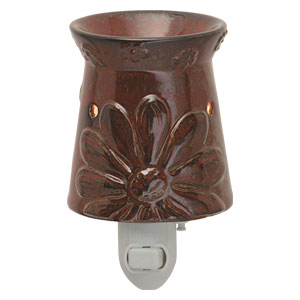 I also really love the Plug-In Warmers. I loved the Plug-In Warmer that Susan sent me so much, I ordered the one above for my upstairs! The Plug-In Warmers plug into any three prong outlet, and can be turned on or off via a switch at the bottom. I much prefer the Scentsy Plug-In Warmer over Bath & Body Works Wallflowers or other brands because you have an option to turn them on or off without unplugging them completely.
I really can't stress enough how much I love, love, love Scentsy. I promise I'm not getting paid to say that.
Susan did send me these items to review, but she understood I would write my true opinion. I loved the warmer and plug-in warmer so much that I placed an order a week after Susan's package arrived. I bought another warmer and plug-in warmer for myself, and I also purchased warmers, plug-in warmers, and bars for Christmas gifts for three of my family members.
So… good news! Susan Kopp, Independent Scentsy Consultant, is offering a fabulous giveaway to one of you! One lucky reader has the chance to win one Plug-In Warmer and one Scentsy bar of your choice! All you have to do is visit
Susan's site
, find your favorite product, and then come back and tell me what it is! Leave your answer in the comments, and I'll announce the winner next Monday.
I am also hosting an online Scentsy party, courtesy of the lovely Susan. You can have the opportunity to buy some Scentsy of your own! Please visit Susan's site to browse all the wonderful Scentsy products and place your order. My party is listed as "Andrea House's Blog Party!" As an incentive – Susan is offering a special gift to any of my readers who make a purchase! Please email her at SusanMKopp@gmail.com for more details.
I hope you love Scentsy as much as I do!